The YWC Imaging Core is reopening for Phase 1 approved research on June 3rd, 2020.
If your lab is planning to use the Imaging Core, please make sure you completed the following steps first:
YWC Imaging Core rules for COVID-19 Phase 1
These guidelines are intended to ensure the safety of all users and staff of the YWC Imaging Core.
Social distancing and vigilant cleaning of equipment and contact surfaces are required to reduce the risk of exposure to the coronavirus causing COVID-19. Below are rules for Phase 1: Highly Restricted Access. These must be strictly followed until we enter Phase 2.
Users who are SARS-Cov-2 positive or otherwise sick are not allowed to access the facility.
1) Social distancing.
Microscope rooms will be limited to one user per session per room. 
Trouble shooting will be performed via screen-sharing and video calls whenever feasible.
Data will be analyzed at home or on computers in the users' lab space. Remote access to the Image Analysis computer in the Imaging Core can be arranged.
Samples will be prepared in the users' lab space whenever possible to minimize the use of the Imaging Core wet lab space.
Follow 6 feet social distancing rule if coming across other users in open space. Please see the attached floor plan below.
2) Masks are mandatory.
Without exception, masks must be worn by everyone present in the Imaging Core for the entire duration of your time in the Imaging Core. Avoid touching your face.
3) Hand washing and gloves 
Gloves should be worn in accordance to standard University EHS PPE Policy.
Users are encouraged to wash hands (20 second rule) or use hand sanitizers.
4) Cleaning and disinfecting public spaces in the microscope suites. Use 70% ethanol only.
All users must wipe down the following items both prior to and following use of the microscopes using 70% ethanol spray and Kimwipes. Do NOT spray 70% ethanol directly onto electronics but rather use a wetted Kimwipe.  Gently wipe all surfaces that users make contact with on a regular basis, including but not limited to: keypads, mouse, power switches, microscope focus knobs, touch pad, stage platform, oculars, desktop and microscope tabletop, doorknobs to the microscope room (inside and outside).
All shared lab coats will be removed.
5) Training sessions. 
No new user training during Phase 1 and Phase 2.
6) FOM and microscopy time slots
Reservation will only be allowed online using FOM, no walk-ups to check if instrument is available.
Users must strictly adhere to their timeslots. Before the next users enters, a gap of at least 15 min after disinfection of the workspace must be observed for sufficient air exchange.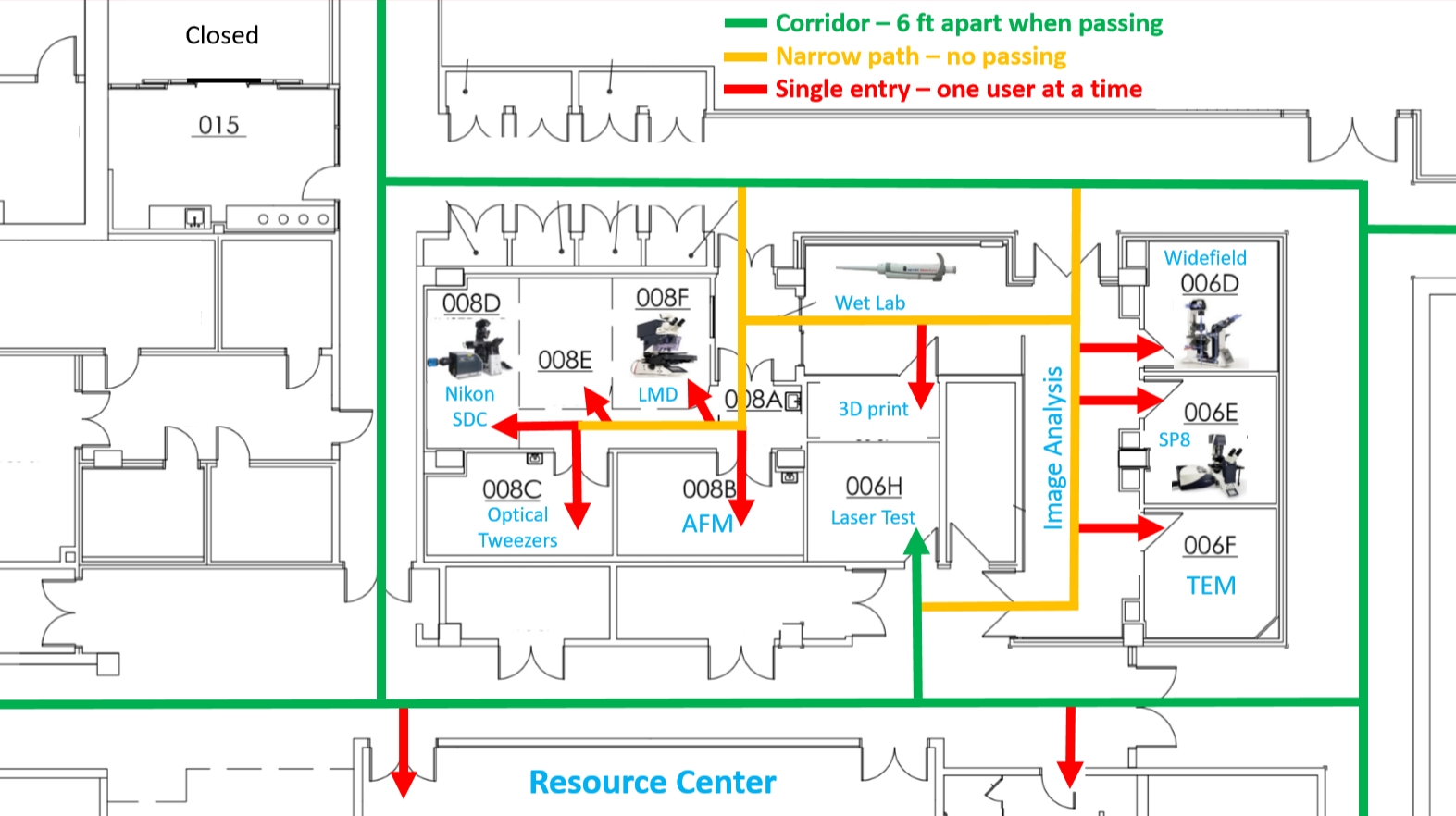 Please email joerg.nikolaus@yale.edu with your questions.
Stay safe!